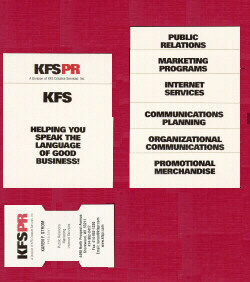 Pianists
KFS PR CONSULTING is a small, personalized consultancy led by Karen Strom, a Public Relations and Marketing professional with more than 40 years of experience in the field. She previously led her own PR and Marketing business, KFS PR, for 30 years, following a lengthy tenure in a highly respected Fortune 500 Manufacturing Company. Now semi-retired, Karen continues to consult with a small number of clients by referral. She helps them "Speak the Language of Good Business" in these areas:




Public Relations
Marketing

Website Development and Support
Communications Planning
Promotional Merchandise
© KFSPR.com. All Rights Reserved.